You are here: Pet remembrance items >> Pet cremation urns
---
Delivery information
For information about our delivery charges, please click here.
---
Trade pricing
Trade discounts for all our remembrance items are available to funeral professionals. Please contact us directly to place your order. Alternatively, contact us to become a registered trade account holder which will allow you in future to purchase remembrance items from this website at trade prices.
---
Pet remembrance items
Showing 1-1 of 1 products available

Keepsake Heart 0.4L (Cranberry with Silver Pawprints) "LIMITED STOCK AVAILABLE"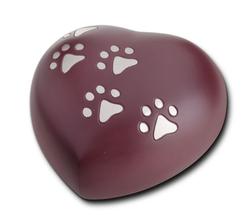 UFU-HUH013 0.4L
£18.00 + VAT
Showing 1-1 of 1 products available